What A Successful First Year!!
Thanks to our firefighters and the Red Cross volunteers for a great first year. We were able to install over 130 smoke detectors in homes. All of the homes we welcomed into had the chance to discuss their safety plans and ask any questions they may have had about home safety.
We would like to thank all of those who invited us into their homes and allowed us to install new smoke detectors.
Part of the Crew for our first year installations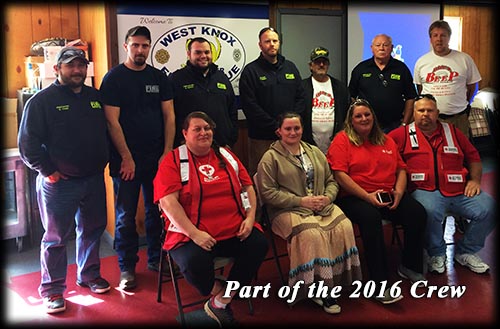 And The Program Continues...
Thanks to the Red Cross and their partners, our smoke detector program will continue. As long as we have homes to put smoke detectors in, they will supply us with them. At least through 2019. So if you live in our fire district and would like free smoke detectors put in your house, email freealarm@giveabeep.com . We will call you and schedule an install date and time.

Smoke detectors are provided through the Red Cross' Home Fire Prevention Campaign and made available to our community by partnering with our Give a Beep program.
For more information on the Home Fire Preparedness Campaign go to www.redcross.org.